Guidelines for Presentation
Presentation Styles
(This information is subject to change)
Oral Presentation
1. Time allocation
Invited speakers: 45 min (including discussion)
Student speakers: 12 min talk + 3 min discussion
2. Computers
We use Cisco Webex (https://www.webex.com/) for online meeting.
Please use your own PC and Macintosh
You can deliver your presentation from ANYWHERE (office, home, etc…)

However, Wired LAN connection to Internet is recommended (WiFi connection is unstable with Webex).

Share your presentation file such as ppt through Webex.
(Poster-like)Mini Presentation
Notice of presentation:
Committee will decide and inform style of your presentation (Oral or Poster-like) to each presenter in early August.
Data:
All presentations will be uploaded on the Google Drive through SaSSOH website.
Each presentation will be divided into folders according to presentation date and category.
Comment and question can be added to presentations on the Google Drive in advance (Pre-discussion time).
All presentations are accessible on the SaSSOH webpage or online program. To view the presentation, the password is required. (Password will be sent to all participants after registration by e-mail when the presentation data is available).
Presentation and preparing data:
All poster-like session presenters have 5 minutes talk and 5 minutes discussion with a small audience through Webex.
Please prepare a PDF file of your presentation with 5-6 slides (which can be explained in 5 minutes.
File size must be

<10MB (saved as Your name.pdf. Example: "Taro SASSOH.pdf"

) so that it can be sent by e-mail to the office.

Deadline of data submission is September 4. 2020.

No animation, movie, or sound can be added.
Presentation date and time will be announced by e-mail and available on the website.
NO flash talk this year.
On the presentation day:
We will have five small Webex booth for presentation and discussion.
All poster-like presenters will be assigned to one of groups on either of days.
Each group will have Six presenters and chairperson(s).
Chairperson(s) will coordinate presentation schedule for each group.
During pre-discussion time, all poster-like presenters should test the connection to Webex to share your presentation file.
Time Schedule:
12:00-12:30: Pre-discussion
12:30-13:30: Presentation time
13:30-14:00: Post presentation (free time)
Veterinary Science

Infectious Diseases

Booth 1

Booth 2

Booth 3

Booth 4

Booth 5

Day 1

V1-1~V1-6

V1-7~V1-12

I1-1~I1-6

I1-7~I1-12

I1-13~I1-18

Day 2

V2-1~V2-6

V2-7~V2-12

I2-1~I2-6

I2-7~I2-12

I2-13~I2-18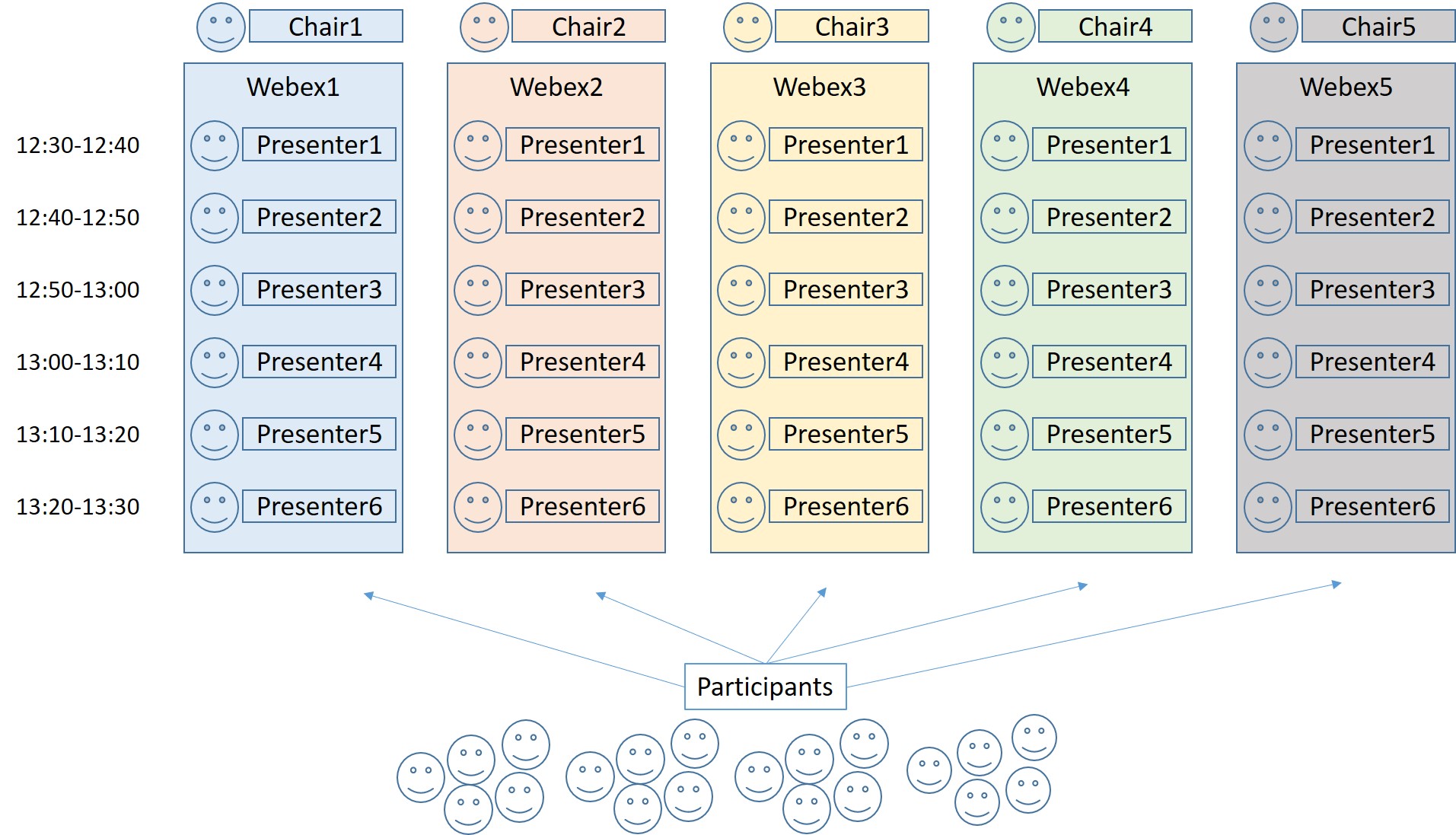 Participants:
All participants can choose any Webex room they want to join.
ONLY comments will be allowed for questions (Please be muted on your PC) unless you are assigned by chairperson.